1. Starting a Business Checklist (SA Citizens)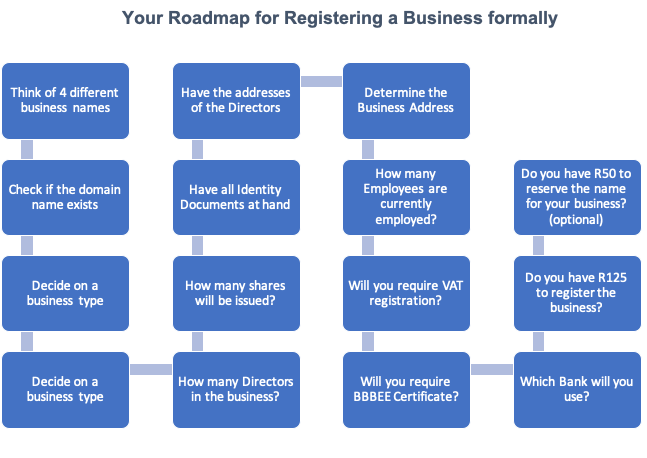 2. Starting a Business Checklist (Foreigners)
The rules and regulations for operating a business in South Africa is the same for both locals and foreigners, all businesses are expected to abide by South African laws.
In order to register a business, foreigners do however need to have the relevant visa in their possession.  A business permit (business visa) is a requirement for foreign entrepreneurs who intend to establish or run a foreign owned business.
Two conditions prescribe the eligibility of a business visa:
Invest a prescribed amount of R5 million into an existing business, or provide a business plan with evidence of the R5 million capital contribution.
Establish a business which is of national interest to South Africa, as stipulated in the IPAP policy document (No minimum capital investment required). [1]
The Department of Home Affairs is the custodian of the business visa process, however the Department of Trade, Industry and Competition facilitates the recommendation of support of granting business visas to businesses which have a substantive economic impact.
In the case of employing foreign nationals, an application for a work permit needs to be made through VFS Global.
VFS Global
VFS Global is the world's largest visa outsourcing and technology services specialist for governments and diplomatic missions worldwide.
Work permits (temporary visas) are issued by the Department of Home Affairs and facilitated by VFS Global.
The types of work-related temporary visas are as follows:
General Work Visas are issued to foreigners where it has been proven beyond reasonable doubt that South African citizens and permanent residents with the relevant qualifications or skills and experience are not available for appointment.
Critical Skills Visa: From time to time the Minister of Home Affairs publishes a critical skills list in a Government Gazette. To apply for a critical skills visa, you must provide proof of qualifications.
Intra-company transfer visa: Occasionally, multi-national companies may decide to transfer an existing employee in a key position from a foreign branch to a branch, subsidiary or an affiliate of that company in South Africa. Such employees must apply for intra-company transfer work permits.
3. How to register a business
The Companies Intellectual Property Commission through its new portal referred to as the Bizportal has made the registering a business process seamless. Through the Bizportal, an entrepreneur can register a business within a few hours for a minimal cost of R125. You can also reserve a company name at a cost of R50. Reserving a company name is totally optional.
The Bizportal allows an entrepreneur to register a Company, Company name, Tax registration number, Domain name registration, B-BBEE certificate, Compensation Fund registration, Unemployment Insurance Fund registration and Business bank account.
Identity verification (ID card/book) will be done real-time with the Department of Home Affairs and other sophisticated measures which serves as a necessary buffer to ensure the integrity of the portal. ID copy is not needed in this process.
Bizportal was developed in response to the quest of improving the ease of doing business in South Africa, specifically, starting a business.
Watch these great videos below that gives you an introduction to Bizportal.
Bizportal
BizPortal is a platform developed by the Companies and Intellectual Property Commission (CIPC) to offer company registration and related services in a simple seamless digital way which is completely paperless.
4. How to reserve a company name?
In terms of the Companies Act, 2008, a company may be registered with or without a company name. When a company is registered without a reserved name, its registration number automatically becomes the company name. The cost to reserve a name is only R50.
Name reservation can be done through the CIPC website or through the Bizportal website.
CIPC process:
Login in to the CIPC eServices portal with your registered log in details (please make sure you have a valid email address)
Click on the Name Reservations icon, then click on proposed name.
Proceed to entering your proposed names (minimum of 1 name and maximum of 4 names)
4. You can then proceed to lodge a name reservation for the name chosen and you will receive an SMS together with an email confirming your name reservation. You will be provided with a tracking number of the name reservation.
A domain name is a unique address that represents a unique location on the internet. It serves as a memorable address and a means for visitors to find your website or e-mail address.
Credit to [ZADNA: www.zadna.org.za]
5.1 What to do before registering a domain name?
Please check that all the conditions below are met before starting with the domain name registration process.
Your CIPC customer profile must be up to date
Registered company/CC/Co-op to link the domain to
Debit or credit card for payment
Read the frequently asked questions 
5.2 How to check if a domain name exists?
You will need to log in into CIPC eServices/domain name services/enterprise details.
You will need your enterprise number and confirmation of the first listed director's ID number. Then proceed to type in the domain name of your choice under "proposed domain name". If the domain name is not available you can check who owns the domain under "whois"
CIPC is in collaboration with ZADNA and ZACR now offers domain name registration for any registered company, close corporation or co-operative. The co.za domain name registration costs R51.75 which all goes to the regulator of domain names, ZADNA. Please note, that one cannot use the funds they have available in the CIPC virtual account; you will need to either a debit or credit card to register a domain
Domain registration through CIPC or ZADNA will have to be transferred to an accredited registrar within a year to avoid deregistration.
6. Types of Businesses that can be registered on Bizportal
Two types of companies may be incorporated under the Companies Act 2008, namely Non-Profit Companies (NPC) and Profit companies.
6.1 Non-Profit companies are characterised by:
Incorporated for a public benefit purpose
Minimum of 3 directors for incorporation
The name of the company must end with "NPC"
6.2 Profit companies are categorised as companies without restrictions on the transferability of their shares and that do not prohibit offers to the public.
Profit companies may be incorporated under the following types:
Personal Liability Companies – is a private company that is mainly used by associations such as Lawyers, Engineers and Accountants. The company name must end with "Incorporated" usually abbreviated as "Inc". (Not applicable in Bizportal and only can be done via CIPC eServices Portal).
Private Companies (Pty) Ltd – is a company treated by the South African law as a separate legal entity and has to register as a tax payer in its own right.
Private Companies can be characterised by:
Name of the private company must end with "Proprietary Limited" abbreviated as "(Pty) Ltd"
Private company does not offer shares to the public
All the shareholders are directors which means there no need to seek shareholder approval for certain board actions
Close Corporation (CC) – a Close Corporation is a company similar to a private company. It is a legal entity with its own personality and uninterrupted succession and must register as a taxpayer in its own right. A CC has no share capital and therefore no shareholders. The owners of the CC are the members of the CC.
6.3 Number of Directors can be registered (various portals)
(Pty) Ltd requires a minimum of 1 director to be incorporated and NPC requires a minimum of 3 directors to be incorporated.
6.4 Number of shares. How many shares will the company be able to issue?
You can decide from issuing 100 shares, 1000 shares, or other.
6.5 Identification Documents
If registering through the Bizportal you will need the South African IDs for verification purposes and to answer questions such as:
Date of issue of the identity document or card
Marriage date, as recorded by the Department of Home Affairs
Spouse's ID number.
6.6 Residential address of the Directors
In the process of registering a company, you will be required to provide the Directors addresses so make sure you have the correct addresses for director's correspondence and geographical purposes.
6.7 Residential address of the Business
In the process of registering a company, you will be required to provide the business address (location of the business) so make sure you have the correct address of the business for company's correspondence and geographical purposes.
6.8 Number of employees 
A Private Company can employ staff. Permanent staff will have to be registered for Unemployment Insurance Fund or Compensation Fund at the Department of Employment and Labour. The registration can be completed through the Bizportal as well.
6.9 VAT Registration
It is mandatory for a business to register for VAT if the total value of taxable supplies made in any consecutive twelve-month period exceed or is likely to exceed R1 million.
The business can register for VAT through SARS's eFiling alternatively, complete the VAT 101 Application for Registration form and submit the form at the local SARS branch within 21 days from date of exceeding R1 million.
6.10 Bank Account registration
You can register for a bank account while registering your company through the Bizportal. All that you need to do is select the bank of your choice then your business information will be sent in real-time to the bank you have chosen.
Which banks can the business owner register with at an initial stage?
The CIPC has collaborated with banking institutions in an effort to offer one stop and seamless transactional experience with the following banks:
Absa
First National Bank
Nedbank
Sasfin Bank
Standard Bank
Make sure you have the following with you before you can proceed:
South African ID
A 3D secure cheque or credit card that is enabled for online transactions
A list of up to four proposed names for your company
For director verification you need to have all directors' IDs and marriage certificates if married.
Bizportal
BizPortal is a platform developed by the Companies and Intellectual Property Commission (CIPC) to offer company registration and related services in a simple seamless digital way which is completely paperless.